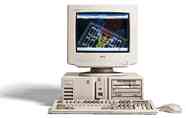 Phil Storrs PC Hardware book
TRAVAN TR-4 magnetic tape technology
The need for more backup capacity has been driven by several factors, including the increasing size of operating systems and applications and the falling price per Mbyte of data storage products. The result is that the need for fast, accurate, easy-to-use, reliable and affordable backup is increasing.

To meet this need, Seagate has developed and introduced TR-4 minicartridge tape drives, the CTT8000 (OEM) and TapeStor 8000 (retail), with a native capacity of 4 Gbytes and a compressed data capacity of up to 8 Gbytes. With a software upgrade, the drives will be read-compatible with most quarter-inch-cartridge (QIC) minicartridge standards back to QIC-80 (250 Mbytes).

The CTT8000 and TapeStor 8000 are available with software for a number of operating system formats, both desktop and network. Performance is unequaled in this market, with up to 30 Mbytes per minute in native mode and up to 60 Mbytes per minute in compressed mode. Seagate's FastSense technology enables the drive to provide the best performance in any configuration by matching system speed to that of the drive. The drives come in a choice of interface, either SCSI or IDE.

Designed for years of trouble-free operation, each of these drives has industry-leading reliability, with a Mean Time Between Failures (MTBF) of greater than 200,000 hours.

These drives provide a better price/performance ratio than any other tape technology, including DAT, DC6000 or 8mm technologies. In addition, the drive is packaged in a 3.5- by 1-inch form factor, so that it will fit in any standard drive bay. Targeted at the high-end desktop and small server markets, these drives provide an excellent solution for end users who have previously used any QIC cartridge drives, and an ideal replacement for the much larger, outdated DC6000 systems.

With extreme versatility, a powerful feature set, ease of use and unequaled reliability, the CTT8000 TR-4 and TapeStor 8000 represent the industry's most exciting new products. Desktop systems are getting more powerful. Today's 32-bit operating systems and graphical environments are enabling new applications and new ways of handling standard applications that take the user to new heights. Internet and network connections provide more data and raw material with which to work. At the same time, these connections, operating systems, and applications demand more system resources, at all levels.

This is especially true of storage. Entry-level hard disc drives are now at 1 Gbyte, and several vendors, including Seagate, have introduced drives of 4 Gbytes or more for power desktops, workstation-type systems and workgroup servers. As the volume of storage grows, the need for fast, reliable backup grows with it.

QIC drives are the most popular format standard for desktops and personal computer systems, for several very good reasons. First, and perhaps foremost in the consumer market, they are more cost effective than alternatives.

Second, they have kept pace with desktop drive capacity. Third, because they are designed with the desktop market in mind, the drive interface, whether floppy, parallel port, Enhanced IDE, or SCSI, makes them easy to install. Finally, these drives feature software that is compatible with today's popular operating systems: Netware, Windows 95, Windows 3.1, Windows NT, OS/2 and UNIX.
Backup With TR-4
With the introduction of the CTT8000 TR-4 8 Gbyte tape drive, Seagate has expanded the envelope for QIC products out of the single desktop range and into that of the power desktop and workgroup server environment. This product provides a highly reliable, extremely cost-effective alternative to more traditional high-capacity tape systems like DAT and 8mm.

Another benefit of the TR-4 (QIC-3095) format is backward compatibility with lower-capacity QIC standards, something no other tape format can claim. The CTT8000 has both read and write compatibility with QIC-3095 and QIC-3080, and with a software upgrade available in mid-1996, will have read compatibility with the QIC-80, QIC-3010, and QIC-3020 formats, including: Travan TR1, TR2 and TR3.

With the purchase of one of these drives, users can either read and restore from their original tapes or consolidate older tapes into a higher-capacity cartridge.

Because of the commodity nature of QIC standard drives and cartridges, the technology, even for the new TR-4 products, is extremely cost-effective. The result is a cost-per-Mbyte of backup that is significantly lower than any competing technology, including DAT, 8mm, and DC6000 products. For those drives with similar capacity, ie. 8mm and DAT (Digital Audio Tape), the numbers aren't even close; QIC is much more economical. Seagate's CTT8000 drives are priced at about half the cost of DAT and 8mm.

The QIC standards are developed and maintained by Quarter-Inch Drives Standards, Inc., a non-profit organization whose sole purpose is the development and publication of standards for this tape system format. The list of contributors to the standards development committees include the vast majority of drive manufacturers and media vendors in the industry. The result is an extremely high level of confidence in both the standards and the product.

This most recent product, the CTT8000 TR-4, was jointly developed by Seagate and 3M, and is the most dependable and reliable drive of its type on the market. Both IDE and SCSI versions of the drive have a MTBF (Mean Time Between Failures) of 200,000 hours, greater than any other competing drive. A large part of this dependability is the result of Seagate's extensive use of LSI circuitry and surface mount components, which reduce component count and power requirements.

The data backed up by these drives is also reliable. The rate of soft data errors, those that can be corrected using either ECC or read retries, is less than 1 in 106 bits read. Unrecoverable data errors, or "hard" data errors, occur in less than 1 in 10e15 bits read.

With respect to ease-of-use, both versions of the drive are compatible with just about every backup software package on the market. This includes those backup utilities provided by operating systems like Windows 3.1, Windows NT and Windows 95, Novell Netware, OS/2 and SCO UNIX.
TR-4 Technical Overview
The CTT8000 TR-4 is a low-cost, high-performance quarter-inch tape drive built to the QIC-3095MC specification. It is compatible with either the Travan TR4 cartridge or the standard minicartridge used in previous generations of QIC drives. With an 0.315-inch wide, 400-feet long minicartridge, native capacity is 2 Gbytes. With the 0.315-inch, 740-feet long Travan-4 cartridge, native capacity is 4 Gbytes. The drives are available with either SCSI or IDE interfaces.

There are three data transfer rates provided for each of the read/write formats. Via firmware, OEMs may select a single fixed transfer rate, or Seagate's FastSense technology may be used. In FastSense mode, the drive will sense the fastest streaming data transfer rate that any given system will maintain, and will automatically select the optimum tape speed to maximize backup performance (600, 450 or 300 Kbytes per second). When reading in QIC-80, QIC-3010, and QIC-3020 modes, the drive has a single speed for each mode, resulting in a data transfer rate of approximately 1 Mbit per second.

Both QIC-3080 and QIC-3095 data formats implement a two-partition scheme. The directory partition, which stores directory and file access information, occupies a single recorded data track. Capacity for the 3080 tape is at least 25 Mbytes, and for the 3095, at least 50 Mbytes. In either format, the remainder of the tape is given over to the data partition, which stores the file sets of backup data.

One of the more significant features of the CTT8000 is its size. This drive comes in a 1-inch high, 3.5-inch form factor, which means that it can be installed in any standard drive bay. The drive package may include mounting rails, bezels, and slides for mounting in a 5.25-inch drive bay.

Advantages of Seagate TR4 Product While the TR-4/QIC-3095 format has significant advantages over other high capacity tape drives, the CTT8000 TR-4 has advantages over other drives of the same type and format. Seagate's technology is licensed to other vendors, and several will be releasing drives. Some, such as Hewlett-Packard, already have announced plans to ship drives in mid-1996.

However, the Seagate drive is the only one to come in a 1-inch high, 3.5-inch form factor. This means that the drive will fit in any standard drive bay, for maximum integration flexibility. The other significant advantage of the CTT8000 TR-4 is speed. Top native data rates for the CTT8000 TR-4 QIC drives, up to 600 Kbytes per second, are several times faster than either DAT or 8mm.

Compatibility with existing hardware controllers and backup software packages is comprehensive. The IDE version of the drive has been tested and is compatible with the vast majority of enhanced IDE host adapters on the market, while the SCSI interface drive has been tested and proven compatible with SCSI host adapters from Adaptec, Future Domain, Mylex, Ultera Systems, DPT, CMD, Advansys and Buslogic, and the list is constantly growing. Host bus systems tested include PC-AT, Micro Channel, EISA, PCI, VESA and SCSI.

With respect to software, DOS, Windows, and Win95 packages from over 15 vendors have been tested on the X86 processors. Other operating systems tested include System 7 for Macintosh, Novell NetWare, and several varieties of UNIX. These include both powerful, multi-featured, standalone packages and less complicated, easy-to-use utilities designed for the single desktop, networks, or integrated into operating systems.

The next real advantage of the Seagate drive is read/write compatibility. In addition to complete read/write compatibility with all QIC-3095 and QIC-3080 format tapes, this drive will (in mid-1996) have read compatibility with QIC-80, QIC-3010, and QIC-3020 tape formats. No other current drive has this capability. In fact, no other current drive has the ability to read and write both QIC-3080 and QIC-3095 tapes. This feature gives the CTT8000 TR-4 the ability to read compressed data on tapes with capacities from 250 Mbytes to 3.2 Gbytes, and to read and write tapes with compressed capacities from 3.2 Gbytes to 8 Gbytes.

The Seagate CTT8000 TR-4 also features Precision Burst, a proprietary head positioning system that provides the drive with reliable operation at high speed.

Overall drive performance is where this minicartridge drive really performs. The fastest drive of its type on the market, the CTT8000 TR-4 is capable of speeds up to 600 Kbytes per second. For slower host systems or different tape formats, the drive has two other speeds; 450 Kbytes per second and 300 Kbytes per second. The drive also has a high-speed rewind feature that rewinds the tape at 100 IPS.

Reliability is an important consideration in the purchase of any product, and again, Seagate is an industry leader. The CTT8000 TR-4 has an MTBF of 200,000 hours, and hard errors are less than one 10e15 bits read. No other QIC tape drive surpasses these figures.

Finally, perhaps the most important consideration is cost. Suggested retail package price for the CTT8000 TR-4 (the TapeStor 8000) is about half that of any competing technology with similar capacity, and will be competitively priced with respect to the products of other manufacturers in the Travan TR-4 market.
Conclusion
While QIC-3095 has been accepted as a standard by the Quarter Inch Cartridge standards group, Seagate invented the technology, so it isn't surprising that Seagate's TR-4 was the first to market. But what is really important is that, once again, Seagate has managed to create the smallest, fastest, and most dependable tape drive on the market.

In addition, Seagate has achieved something no other manufacturer can claim: compatibility with existing QIC cartridge formats, controller hardware, and backup software. This is generally unprecedented, but only serves to emphasize Seagate's experience and ability to bring top-quality, competitive products to market ahead of the competition.

This page was taken from the Seagate Travan TR-4 Technology page
---
---
Written by Phil. Storr, last updated 4th December 1998
---